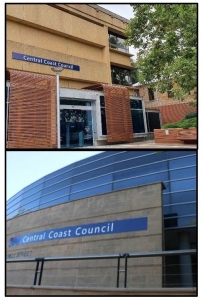 On 20 October 2020, Council staff advised Councillors that if payroll was processed the following day without approval from the Minister to use the funds in the bank, then this was unlawful. It became clear that staff had been using restricted funds (money set aside for another purpose) for some time without authorisation. This had been without Councillors' knowledge or approval. Now the Administrator has given himself permission to use money that is internally restricted. This means that he could raid money that has been set aside for specific purposes and other priorities.
Dear resident of the Central Coast Council area,
If you support the call to demerge Central Coast Council and to reinstate the former Gosford and Wyong Council areas, then please
Download the petition - click here
Print the petition
Complete with your correct details (as they appear on the Electoral Roll), sign and date

Mail to

PO Box 106, Terrigal, 2260

or scan and email

to

This email address is being protected from spambots. You need JavaScript enabled to view it.

Spread the word to

encourage others to also complete a petition
Copied from - INNER WEST INDEPENDENT 
By ALLISON HORE
Inner West residents will be polled in the upcoming local council elections asking if they would like to see the Inner West council split up. Ever since the Leichhardt, Marrickville and Ashfield councils were forcibly amalgamated by the NSW Government in 2016, there has been controversy surrounding the decision. 
Read more: Inner West residents to be given vote on de-amalgamation
Research shows amalgamating councils causes increasing costs
Over 70 people attended a presentation by Professor Joseph Drew on Monday of the June long weekend (14 June 2021). Professor Drew highlighted the significant issues and precarious financial position of many Councils after the NSW Government's controversial 2016 council amalgamations policy. Keep reading to watch the presentation.
Read more: Presentation by Professor Joseph Drew highlights recent research on mergers