On 12 May 2016, the NSW government amalgamated Gosford and Wyong Councils to become Central Coast Council. The community was never asked if they wanted to merge and 5 years later Central Coast Council faces a significant financial crisis, rates are going up, staff have been axed, community assets are being sold and services cut.
At the time of merger, Gosford and Wyong Councils had a combined debt of over $300 million and only $5 million in unrestricted funds – and yet the NSW government forced the merger of these Councils without the community's backing.
The NSW Government appointed Administrator, Dick Persson, acknowledges that the community didn't want the merger then and doesn't want the merger now – but claims that the matter is resolved.
It is not.
The Friends of Democracy will focus on returning democracy to our community and reclaiming our Council.
Initially this will mean educating the community about the option of a demerger – what this means, what it costs and how it would be achieved. We will then see if there is support for the demerger option.
If not, then we need to consider how the community's interests can best be served by a large Council. How do we build and support an engaged community that wants to protect the things that they love whilst planning for the future.
The Friends of Democracy is not politically aligned.
We welcome, and hope that, supporters from all political parties - and no political party - will join this cause.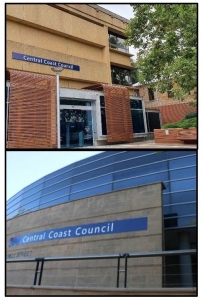 On 20 October 2020, Council staff advised Councillors that if payroll was processed the following day without approval from the Minister to use the funds in the bank, then this was unlawful. It became clear that staff had been using restricted funds (money set aside for another purpose) for some time without authorisation. This had been without Councillors' knowledge or approval. Now the Administrator has given himself permission to use money that is internally restricted. This means that he could raid money that has been set aside for specific purposes and other priorities.
Dear resident of the Central Coast Council area,
If you support the call to demerge Central Coast Council and to reinstate the former Gosford and Wyong Council areas, then please
Download the petition - click here
Print the petition
Complete with your correct details (as they appear on the Electoral Roll), sign and date

Mail to

PO Box 106, Terrigal, 2260

or scan and email

to

This email address is being protected from spambots. You need JavaScript enabled to view it.

Spread the word to

encourage others to also complete a petition