On 12 May 2016, the NSW government amalgamated Gosford and Wyong Councils to become Central Coast Council. The community was never asked if they wanted to merge and 5 years later Central Coast Council faces a significant financial crisis, rates are going up, staff have been axed, community assets are being sold and services cut.
At the time of merger, Gosford and Wyong Councils had a combined debt of over $300 million and only $5 million in unrestricted funds – and yet the NSW government forced the merger of these Councils without the community's backing.
The NSW Government appointed Administrator, Dick Persson, acknowledges that the community didn't want the merger then and doesn't want the merger now – but claims that the matter is resolved.
It is not.
The Friends of Democracy will focus on returning democracy to our community and reclaiming our Council.
Initially this will mean educating the community about the option of a demerger – what this means, what it costs and how it would be achieved. We will then see if there is support for the demerger option.
If not, then we need to consider how the community's interests can best be served by a large Council. How do we build and support an engaged community that wants to protect the things that they love whilst planning for the future.
The Friends of Democracy is not politically aligned.
We welcome, and hope that, supporters from all political parties - and no political party - will join this cause.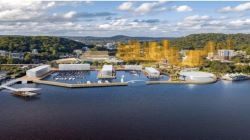 On 27 September 2022, the Council Administrator appointed by the NSW government adopted a preferred concept plan for the development of Gosford Waterfront and Stadium. The lack of transparency in this process has been staggering.
Although there will be a range of views about the future of the Gosford waterfront, we should all be concerned about the lack of information and the haste to change planning rules before a State election and without local elected representatives in place to represent the interests of residents, ratepayers and the community.
Read more: Gosford Waterfront decision raises concerns about transparency, accountability and integrity
Angry residents from across the state demanded action on failed mergers at Parliament House on 9 August. The rally was jointly organised by Demerge NSW Alliance (DNA) and Sydney's Residents for Deamalgamation
Around 100 people attended from right across the state. People travelled from Guyra, Tumbarumba, Bombala and Gundagai to speak with Labor Shadow Minister for Local Government, Greg Warren and Shooters Fishers and Farmer's Robert Borsak. Green's Kobi Shetti on behalf of Green's MP Jamie Parker and Dr Joe Mc Girr, Independent member for Wagga rounded out the State politicians speaking.
Read more: Statewide Rollup to Demerger Rally at Parliament House - as largest Council in NSW votes to...
In 2016, the NSW State government amalgamated Gosford and Wyong Councils against the wishes of the Central Coast community. Five years later, Central Coast Council is under Administration, subject to a public inquiry, staff have been sacked, public assets are sold and rates are rising.
Read more: Sign the petition - Premier: Pay the $100 million owed to the Central Coast!
The Central Coast Friends of Democracy (CCFoD) is calling on the NSW Government to pay the $100 million that it owes our Central Coast community and conduct a poll about the future of our Council.
On 12 May 2016, the NSW Liberal Government merged Gosford and Wyong Councils to become Central Coast Council. Six years later, staff have been sacked, rates are rising, community assets have been sold, services have been cut and local democracy has been taken from our community.
Read more: 12 May marks six years since the Council merger – Our community should be asked about the future...