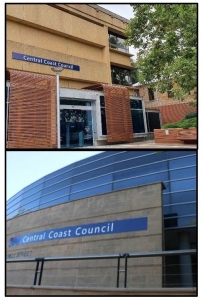 On 20 October 2020, Council staff advised Councillors that if payroll was processed the following day without approval from the Minister to use the funds in the bank, then this was unlawful. It became clear that staff had been using restricted funds (money set aside for another purpose) for some time without authorisation. This had been without Councillors' knowledge or approval. Now the Administrator has given himself permission to use money that is internally restricted. This means that he could raid money that has been set aside for specific purposes and other priorities.
On 6 October 2021, Councillors were advised of Council's financial situation. During the following fortnight Council wrote to the Minister for Local Government seeking approval to use money that was held in the bank for the immediate crisis. At that point, Council had over $300 million in the bank. It is understood that the NSW Government did not respond.
On 14 October, the Mayor wrote to the Minister seeking clarification about the Financial Expert that had been offered to assist Council. It is understood that the NSW Government did not respond.
On 20 October, it was clear that the only way to get a response from the Minister was to advise that the payroll for over 2,000 staff was at risk. Council's payroll was in the order of $5 million each week. The Minister then provided $6.2 million that was an advance on an annual grant provided by the Federal Government.
The Problem:
Council staff are paid from the "General Fund" using "unrestricted funds". This is money that is not allocated for a specific purpose, or restricted. If you don't have any unrestricted funds, then you need approval from the Minister or the Councillors to use other money.
Since October 2020, the Investment Reports tabled at Council meetings by the Administrators have not been clear about the current status of the unrestricted money held in the General fund. In November 2020, then April, May and June 2021, it clearly shows that Council does not have any unrestricted money in the General Fund.
However, for December 2020 and January, February and March 2021, the Investments Reports are less clear - although it would appear that during that period Council did not have any unrestricted money.
Questions that need to be answered:
How has the Administrator paid staff for the last 6 months with no unrestricted money available in the General Fund?

Has the Minister for Local Government given approval to the Administrator(s) to use restricted funds - but would not do the same for Councillors last year?

Has the NSW Government turned a blind eye to this problem during the last 6 months?
On 24 August 2021, the Administrator has now given himself approval to use Internal Restricted money, to the tune of $81 million. This means that the Administrator could be raiding the money that has been set aside for community projects and community priorities.
Last updated: 25 August 2021